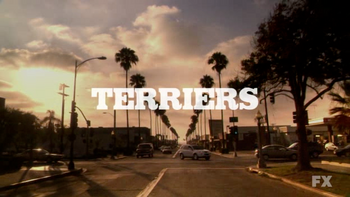 Terriers
is a comedy/drama series that follows
Hank Dolworth
, an ex-cop, and his partner/best friend,
Britt Pollack
, as they run an unlicensed private investigation business. Edgy and original, this show is about high stakes in the face of low expectations. T
erriers
explores what it's like in today's America to be "too small to fail." The series premiered on
FX
on September 8, 2010 and airs
Wednesdays @10pm/9c
.
Co-stars include Laura Allen (Dirt) as Katie, Britt's girlfriend; Rockmond Dunbar (Prison Break) as Detective Mark Gustafson, former colleague of Hank; and Jamie Denbo (Weeds) as Maggie Lefferts, Hank's attorney. Craig Brewer (Hustle and Flow, Black Snake Moan) directed the pilot episode.